"Children are the
future

of the world, let's start with the

children

."
The School
Whereas in the beginning not more than only a few young kids had to be taken care of during the day, meanwhile the Imizamo Yethu Educare Centre became one of the biggest supporting systems in the close vicinity. At the present time between 70 and 90 kids up the age of six are looked after in order to put their mothers in the position to work on a regular daily basis.
Children are looked after in two separate groups:
The youngest up to the age of two stay in the kindergarten. Proper hygienic conditions, healthy food as well as basic treatment are provided. They are entertained by playing games with a main focus on the development of elementary skills and on the coordination and control of their senses and bodies.
The group of children between three and six are educated in a pre-school. As the little ones, they also get healthy food – breakfast as well as lunch. Furthermore they receive basic care and are taught in hygienic behaviors. On top of it they get prepared for their first year in school. Although playing is obviously an important object, priority lies on getting them to learn about elementary educational principles. To reach that target storytelling, painting and drawing are main topics in lessons. Pupils also have to get used to keep a scheduled timetable.
Lessons are held in Xhosa and in English. Last-named is essential as in South Africa the knowledge of the English language is still condition for getting trained and – later on – working in a qualified job. To aim that goal, simple methods such as blackboards, posters, and pictures are being used. In some rare cases, pupils bring their own schoolbooks or drawing primers. On closer inspection above mentioned facts can unfortunately not guarantee the required quality to get the children prepared for public schools.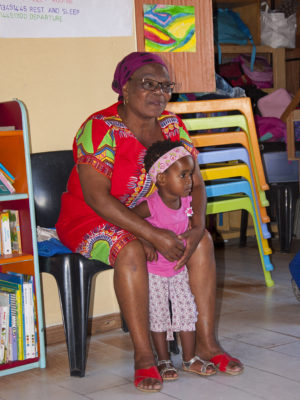 Project Steps from the beginning